The Honorable William J. Caprathe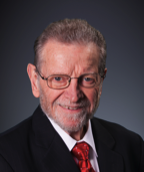 Judge William Caprathe (Retired) has been practicing meditation for almost 40 years, and reports it to be a fundamentally important tool in all aspects of life.
After sitting on the bench for 30 years as a state trial court judge, Judge Caprathe retired in 2010. He still sits, from time to time, on assignment and mediates and arbitrates private disputes.
In October, 2014, Judge Caprathe wrote "The Mindful Lawyer and Judge" which was published in the Judicial Division Record (Fall 2014, Vol. 18 Issue 1, p35). The article offers insights into mindfulness for lawyer and judges and discusses the ABA Conference seminar, "The Mindful Judge and Lawyer: Understanding and Managing Stress" presented by the National Conference of Administrative Law Judiciary (NCALJ).
You can read the article by
clicking here
(is the the second article on the page) or viewing the entire Fall 2104
ABA Judicial Division Record
online and scrolling to page 25.